Marketing Solutions Group

Marketing Solutions Group
Is your website ADA &
WCAG 2.1 compliant?
The first and only AI-powered solution that is revolutionizing the industry by making web accessibility simple, automatic, immediate and affordable, in compliance with the WCAG 2.1, ADA, Section 508 and other worldwide legislation.
Which businesses must have compliant websites?
Since the recent DOJ affirmation ALL BUSINESS-RELATED WEBSITES are now considered places of public accommodations and must be accessible for people with disabilities. (ADA Title III)
Ready to Become ADA Web Accessible?
Protecting your business and enabling users complete access to your website is our top priority and THE LAW. We are looking forward to exceeding your expectations!
For websites under
1,000 unique pages

For websites under
10,000 unique pages

For websites under
100,000 unique pages

Accessibility Statement & Certification
Compliant with WCAG, ADA, EAA & More
Screen-Reader & Keyboard Navigation Adjustments
Interface powered UI & Design adjustments
Free Installation with Purchase
Monthly accessibility compliance audits
Automatic daily monitoring and scans
Automatic seamless cloud updates
Wondering how others compare? They don't.
OPTIONS

Compliance

Pricing

Turnaround

Success Rate


DSI's Partner AI Solution
The only automatic solution

WCAG 2.1, ADA, s508 & more

Price start at $597/year

48 hours from installation

Industry highest success rate

Re-scanning every 24 hours


AudioEye, User1st & more

Depends on project scope

$5,000 - $50,000/year

Projects take 3-26 weeks

Drops to 50% within 6 months

Require additional services
UserWay, WP Access & more

Won't comply with legislation

Free to Low Cost subscriptions

No Full Turnaround

5% to 15% of Requirements

No Maintenance Included
Trusted to protect over 44,000+ small
businesses and industry leaders alike!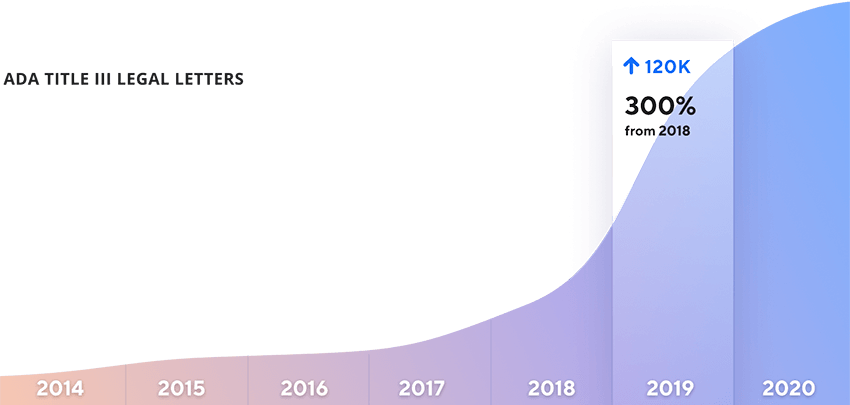 The exponential growth in web accessibility lawsuits has a widespread effect across most industries, with small and medium businesses right in the center of the storm.

Lawsuit numbers are estimated to continue to increase as the need to enable accessible digital experiences becomes more prominent.

Since many businesses are physically closed, but are now operating online only, the amount of new legal letters and actual lawsuits are expected to rise dramatically.
Frequently Questions About Our Automated Solution
How Does the Technology Work?
How is the process of becoming compliant using our solution is simple?
How quick does it take to be fully compliant?
I WANT TO BE ADA COMPLIANT