Marketing Solutions Group
Is your website ADA & WCAG compliant?
Get an accurate answer to whether or not your website is compliant with web accessibility legislation for free!
Which businesses must have compliant websites?
Since the recent DOJ affirmation all business-related websites are now considered places of public accommodations and must be accessible for people with disabilities. (ADA Title III)
What does this mean
for your Business?
We live our lives online. But 20% of the population have disabilities that exclude them from using it. These people make up 20% of your potential New Customers
Web accessibility lawsuits rise exponentially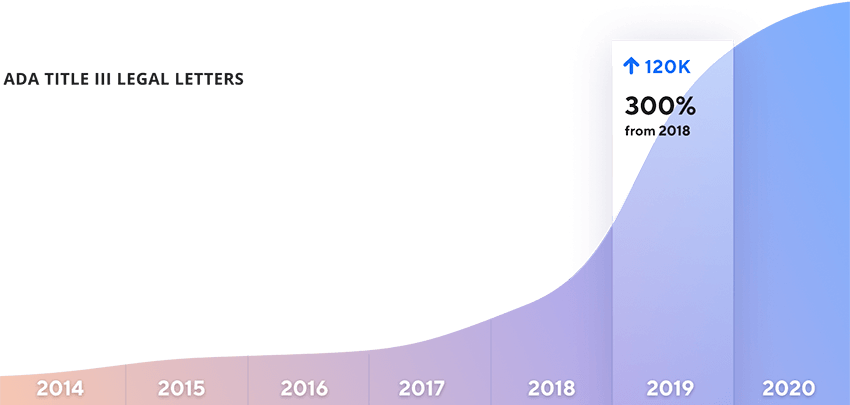 The exponential growth in web accessibility lawsuits has a widespread effect across most industries, with small and medium businesses right in the center of the storm.


Lawsuit numbers are estimated to continue to increase as the need to enable accessible digital experiences becomes more prominent.

Since many businesses are physically closed, but are now operating online only, the amount of new legal letters and actual lawsuits are expected to rise dramatically.
What is the ADA?
The Americans with Disabilities Act (ADA) prohibits discrimination against people with disabilities in several areas, including employment, transportation, public accommodations, communications and access to state and local government' programs and services.
14 Most Sued Industries for ADA Non-Compliance
Travel/Hospitality

Restaurants/Food Service

Medical/Health

E-Commerce

Universities/Educational

Beauty/Fitness/Wellness

Entertainment/Leisure
Insurance

Retail Stores

Home Services

Banking/Financial

Real Estate

Automotive

Government
Ok, what's going on, why should I worry about web accessibility?
In short, we've heard that attorneys have been threatening companies with lawsuits if their website is not "accessible", with settlements ranging from $15,000 to $150,000 per instance if the company doesn't "fix" their site.

What is Accessible?
Technically speaking, accessibility is defined by the requirements laid out by Section 508 of the Rehabilitation Act of 1973, and it's often conflated with the Americans with Disabilities Act (ADA).

Non-technically, it's giving someone with a disability, like limited or no sight or hearing, the ability to experience all elements of your website. For example, someone without sight is not able to see images or form fields on your website, so they need alternative text to inform as to the content of each image. Someone without hearing cannot listen to a narrated video, so they need captions.

How We Evaluate Accessibility
To determine whether or not a site is accessible, we use a checklist called the Web Content Accessibility Guidelines 2.1, or WCAG, created by the World Wide Web Consortium (W3C). They have three levels: A, AA, and AAA. As of this writing, to be considered accessible, a website has to meet WCAG 2.1 AA.

How Bad is it?
Most non-governmental websites are *not* completely accessible. In a sense, any website that does not meet the criteria for a compliant website could be a target. In fact, in most cases, unless "Section 508 compliance" was listed as a project requirement, most websites out there are not compliant, and therefore a potential target.

Solving Accessibility Issues
We've found a really great website drop-in that practically instantly brings a site into compliance with Section 508. Where we used to have to manually monitor a site, then manually fix all issues, then manually recheck a site periodically, we can now use this drop-in to handle it all. In 48 hours your site will be in full compliance with the Americans with Disabilities Act. After that your site will be scanned and updated as needed every 24 hours!


Protect your business from lawsuits,
Open your website to the world &
Boost your Brand Perception
"A real, effective, and stable solution, not only for business
but first and foremost for people with disabilities."